We pay the following on behalf of the client, before the service takes place.
Crematorium and cemetery fees
Church fees
Minister's fees
Doctors' fees
Newspaper obituary notices
Service Sheets
We therefore ask, that the cost of disbursements are paid as a deposit no later than 3 days before the service.
Funeral payments from the social fund
The funeral service is only partly funded by the DWP and the balance remains payable by the family.
Please note not all claims are successful so full payment of the funeral account is required by the family, no later than 3 working days prior to the funeral.
Should your claim be successful any amounts awarded will be reimbursed to you.
An initial deposit will be required.
The balance of the account will be submitted by invoice after the funeral
Settlement is required within 14 days from invoice date.
Interest, on any outstanding balance on overdue accounts is charged at 1.5% per month
Payment may be made either by cash, cheque or credit/debit card.
Credit/Debit cards welcome, and can be taken over the phone.
Online payment – Bank details on are available on request.
Expert Guidance, Support & Advice
As family funeral directors, based in Birmingham, we believe that arranging a funeral for your loved one(s) shouldn't be a lonely process. We provide the warming service that you need and take the weight off your shoulders. We are with you guiding, advising and supporting you through every aspect of the funeral.
Funeral Directors in Birmingham for over 110 years
S Gascoigne & Sons have a long and proud history as funeral directors in Birmingham and Solihull. We are based at our funeral home next to the historic St Nicolas Parish Church, The Saracens Head and the Old Grammar School on The Green at Kings Norton, Birmingham.
A Family Tradition
Christopher Gascoigne is proud to be continuing the tradition of his family-owned funeral directors. His great-grandfather William Gascoigne started his business in 1900 on Spring Hill, Birmingham, followed by his son Sidney Gascoigne and later by Christopher's father Ralph Gascoigne who ran various offices throughout the Birmingham area.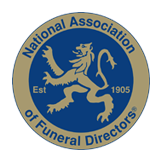 Funeral Associations Member
The company is a member of the National Association of Funeral Directors. We abide by their code of practice, and we are also a member of The Birmingham Funeral Directors Guild.
Commitment to Fair Pricing
As a family-owned business, we pride ourselves in the fact that our charges are moderate. This was always William Gascoigne's motto when he started in 1900. We offer a personal service that is expected from a family-owned business.
We are always happy to give full details either on the telephone, by e-mail or by letter, as prices vary considerably from company to company. We believe our charges are very competitive whilst still being able to offer the first-class personal service families expect.